Docyke are the amazing modular kits that provide fun for all the family. Together you can build and explore on walkers, scooters, bicycles and go-karts. There's something for everyone, no matter what their age - yes - even the parents love Docyke!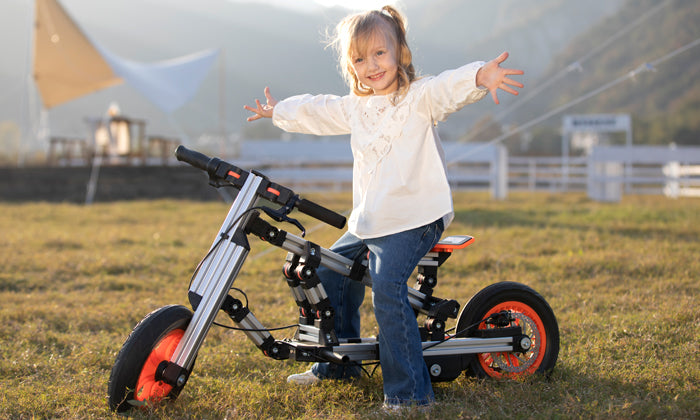 Here are 10 reasons why our customers love iDocyke:
    If you've got a bit of an imagination and some keen engineering skills you can make what you want out of your iDocyke. You can build your very own walker, scooter, bicycle or even a go-kart with a battery!
    Docyke is more than just one toy, it can grow with your child - from toddler to teenager. The materials are so durable that once one child grows out of it the Docyke will be there for the youngest sibling to hop on and play.
Strong durable materials that you can trust
    Our materials are high quality materials, durable, comfortable and trustworthy. The materials will last for generations and bring an abundance of fun!
Aluminium: Docyke frames are made of aluminium, which is a lightweight, but study metal. It was the leading metal for bicycle frames before carbon became more accessible and aluminium has stood the test of time. Unlike carbon, aluminium is very affordable. As aluminium is a lighter weight metal it makes it ideal for children to move the toy around.
Soft materials:For an enjoyable play experience comfort and safety is key. Every Docyke has a rubber cushion, soft end cover to keep children safe when they're speeding around!
Plastic:plastic components bring a splash of colour and fun to the Dockyke
Sturdy trailers:the aluminium is also used on the M-Kit model trailer, which allows children to carry anything that they like. You could even put mum's shopping in the trailer!
    Docyke materials can be reused to rebuild models or if you want to keep the Docyke as it is and pass it down - they're durable enough for that too!
    The Docyke walkers, scooters, bicycles or go-karts are not just for children. They're guaranteed to bring fun for the entire family. Whilst it's children who will be buzzing around the garden or riding in the park, it's mum and dad who will need to lend a loving hand when it comes to the build. For bigger Docykes like the L-Kit or go-kart can take as many as 8-16 hours of family fun to build.
    The customisation options on the Docyke means that you'll be having fun all year round. In spring and summer your children will be out riding all hours of the day, but in the cooler months, the rainy days and through the long winter you can retire the Docyke to the garage and undertake all the essential engineering works - working together to take the Docyke bike to a scooter or a walker - whatever your children dream up next.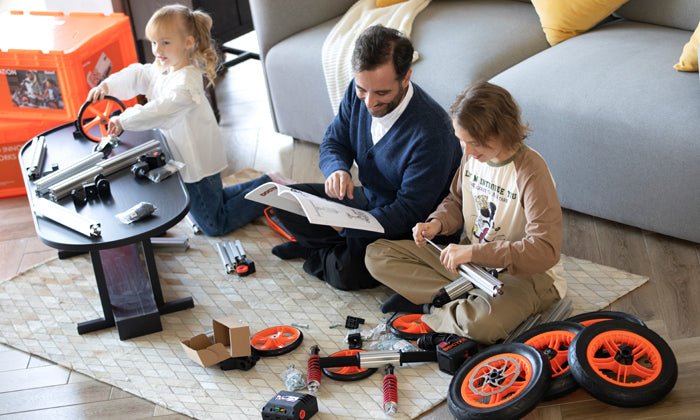 The Docyke means that parents can invest in one toy that will grow with their child. The Kit Balance Scooter for example can be upto twenty different constructions: a balance bike, a scooter, a tricycle and more! Whatever your child wants to play with, they've got it. All in one exciting model and at no extra cost!
Exceptional customer service - we're here for you!
    Our community at Docyke is incredibly important to us. Our expert team is here to help whether you're thinking about buying, have a question, have ordered or even if you need someone to help you build the bike. We're here for you!
    Our expert Docyke engineers have all the answers and they're dedicated to making you and your children happy.
We keep you safe on and offline - wherever you are
    Our website is entirely safe and secure, so you can put your payment through without a single worry. We know that online shopping can be a bit scary, so true to our word, we committed to looking after you. We have a secure checkout and payment gateway. We use VeriSign's globally recognized payment technology, and accept credit card and PayPal payments. Payment on our website could not be easier - and the Payment gateway is probably the fastest way to pay!
    We will make sure you're safe when you buy and ride a Docyke.
High quality materials at great prices
    We've carefully selected materials that unite affordability with durability and safety. We want your family to have the best experience at a price that you can afford. That's why our prices start at a competitive £199.95 - and you get a lot for your money - several constructions in one product.
Inspires creativity in children
    Finally, Docyke is here to encourage creativity in children. We want your children to love every moment with the Docyke - from the moment it arrives at the door, to construction and of course riding around the garden or the park.
    Docyke is customisable for children who want to leave their mark on the world - you can buy your own unique emblems so your Docyke stands out in a crowd! There's really no end to the imagination!
    All of our products come with a 2-year warranty, so there's really nothing to worry about. Our dedicated team is always available for you and if something happens we'll be able to resolve your problem! You can email us anytime: service@idocyke.com 
Our community is amazing!
    Our community share their amazing builds with us. It's not about competition, it's all about FUN! You can see what our community has built here and if you've built a Docyke we want to hear from you so we can share your incredible engineering skills with the entire world!