Are you new to iDocyke? Are you not sure what bike is going to be best for your child? You have probably heard a lot about the company and how fantastic our kits are. From being an exciting project for rainy days to being a toy your child can grow up with, the fun is endless with iDocyke. Let's take a look at the kits.
S-Kit – For the Youngsters
If you have young kids and they have never had their own bike before, we recommend the awesome S-Kit. This is one of our bikes that is designed for youngsters aged between one and five years old. This is a great starter kit that is not only going to allow your kids to build confidence from an early age, but they are also going to have a lot of fun.
What we love about the S-Kit is that it can start off as a balance bike. But, this is not all. Your child can also enjoy riding a scooter or a trike. It is totally customisable and you can get creative with this one. Compared to some kits, this one only takes three hours to build. We think this is ideal if you are looking for a mini project for you and your young child to enjoy. It is just enough time for them to help you and for you to enjoy a teaching moment. But, it is also going to mean they do not have to wait forever for their new and exciting toy.
Of course, this kid is designed for kids up to five years and since it has a durable plastic and aluminium construction, it is going to last your growing child many years. There is even a two-year warranty.
M-Kit – For the Active
Next, we have the M-Kit from iDockye. This is a unique kit that is going to allow you to create 40 different fun rides for your kids. It is suitable for children up to eight years of age. You can find a construction that they love to ride outdoors, whether it is a ride-on scooter with a kart or a simple starter bike.
Again, half of the fun of an M-Kit is building the unique toy with your child. You can expect the building time to be up to five hours for this one. This means you have a cool project to work on with your child through the winter. They are going to be excited for the spring days to come around so that they can enjoy their new bike. What's more, they can feel a sense of satisfaction since they helped to build it too.
With quality parts, the M-Kit is a total that is like an investment. You are going to be able to use it for many years and create new toys as your child ages. But, since they can enjoy everything from a scooter to a bike, it is going to be so exciting and brand-new to them.
L-Kit ­– For the Older Kids
The fun does not stop when your child gets older. Instead, they can enjoy a different kit. Namely, for children between four and 14 years old, it is going to be cost-effective to purchase the L-Kit. This is going to allow your kids to enjoy up to 60 different rides through the years. The maximum load is 50 kg so this is a toy that is going to be suitable for all ages and sizes. Compared to the other kids, you can enjoy 12-inch anti-skid wheels, as well as a safe disk brake. This allows for better play outdoors when your child starts to need less supervision.
Let's take about the building time. This is one of the longest kits you can purchase if you and your child are looking for a project to enjoy together. It can be difficult to spend time with your child as they grow older and are looking for more independence. But, this is where the L-Kit comes in. This is something that you and your child can enjoy together. It can take around eight hours to build this toy, which makes it the perfect time to bond. In particular, when your child is stuck indoors during the winter, they can get bored. But, you can have some fun together with the L-Kit. This is a productive way to spend time together. Plus, it means that your child has a toy they can look forward to using when the weather gets better. It can also be hard to keep your child away from video games and to get outdoors during the summer. But, since they have this new and exciting toy, they are not going to need a lot of encouragement!
Go-Kart – For the Daredevils
Is your child a little bit of a daredevil? Do they like to go fast and enjoy playing outdoors? Well, we would definitely recommend the Go-Kart Kit. This is going to be perfect for kids that like to race around and pretend they are a driver. But, before we get into the cool details of the go-kart, we want to point out that this kit is still a 15 in 1 ride. So, kids between 5 and 18 can enjoy everything from riding a scooter to racing around on a go-kart.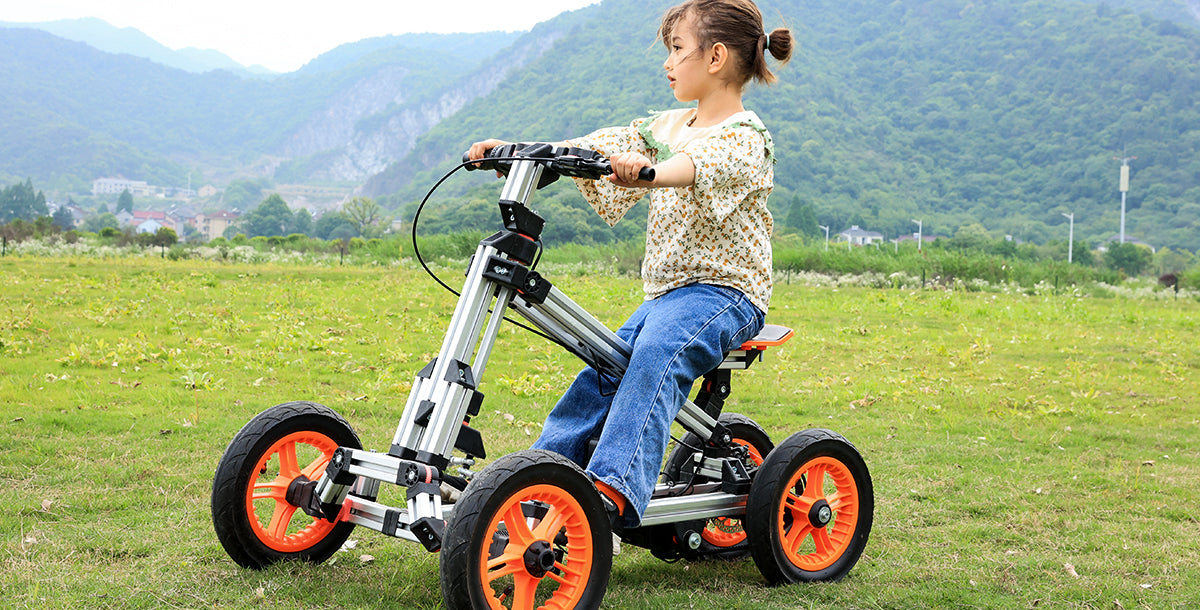 Now, it is time to looking into the exciting details of the go-kart kit. What we love about this one is that there are lithium batteries provided. These are going to provide your child with their need for speed! They can allow for one hour of riding time. what's more, there are safe shock absorbers and non-slip wheels for outdoor play and to give you peace of mind. There is also a brushless motor and a mechanical brake for safety. Together, this creates a fun and reliable go-kart that is going to provide your child with endless fun. We cannot think of a better birthday or Christmas present for a young child and right up until they are a teenager.